As a white free flowing granular chemical,Sodium percarbonate is applied in the formulation of laundry products and many other detergents. It can provide effective cleaning, bleaching,stain removal capabilities, and is environmentally compatible, for it breaks down into water,oxygen,and soda ash. It is made with hydrogen peroxide and sodium carbonate,providing high alkalinity to enhance the bleaching power of peroxide of 29% density. It is widely used in heavyduty laundry detergents,all fabric.paper and pulp,textile and dyeing bleaches, vat dye oxidation, and carpet cleaners;and is also used in the preparation of disinfectants, and used as oxygen generator in fishraising industry and for medical emergency.
This is a kind of new oxygen bleaching agents, with the functions of cleaning, whitening, brightening and sterilizing.
It is suitable to be the material for lowphosphorus or nonphosphorus washing powder. It is used as bleaching agent and reducing developer in the textile industry. It can separately used as disinfector, remover etc.
Specification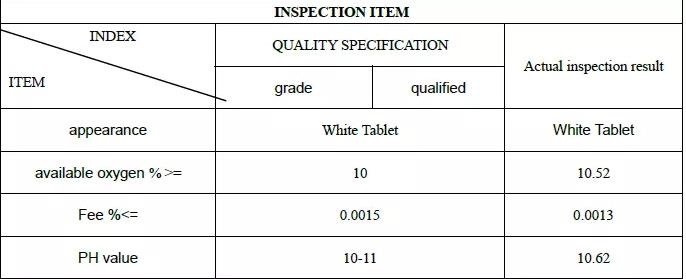 Application
1. Widely used in detergents aids or in bleaching agents;
2. As bleaching agent, dyeing & finish agent in textiles industry;
3. As bleaching agent of pulp in paper-making industry;
4. As disinfectant of dishware or in the surface treatment of metals;
5. As oxygen adding agent in medical area.
6. add oxygen for fish and shrimps in sea water/fresh water